Three Qatari films to open DFI's Hekayat Khaleejiya series
'Flight 13' by Ahmed Bukamal
DOHA: Three Qatari films will open this year's edition of the Doha Film Institute's (DFI) year-round series, 'Hekayat Khaleejiya,' that showcases Khaleeji films within the Doha community.

The films include Flight 13 by Ahmed Bukamal, Al Kora by Amal Al Muftah and My Hero by Nora Al Subai.

The screenings, which also include a question-answer session with the filmmakers, will be held at Museum of Islamic Art (MIA) on Thursday and Friday, at 7pm.
'Al-Kora' by Amal Al-Muftah
Part of the Official Selection of Al Jazeera International Documentary Film Festival, Flight 13 presents the experiences of Al Jazeera Sports Crew when they boarded a private aircraft to travel between two cities but the plane's wheels failed to unfold in the air, before it hit the ground.

Al Kora depicts dedicated efforts of a brother and a sister, and their attempt to retrieve a lost football in an old Qatari village. It premiered in the inaugural Ajyal Youth Film Festival last November.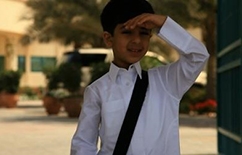 'My Hero' by Nora Al-Subai
Winner of the Made in Qatar competition at Ajyal Youth Film Festival, My Hero is the story of a young boy who idolizes his busy father and devises a clever way to spend more time with him.

Tickets are priced at QR35 and QR25 for students.
Source: thepeninsulaqatar.com
comments powered by